My name is Louis Garmendia. I live in Greenville, SC. And I love chicken.
My love of chicken has taken my taste buds far and wide. And in an effort to expand my horizons a few years ago, I searched the Internet for something I figured would be plentiful and easy to find. But I was shocked and couldn't find any blogs dedicated to the consumption of my feathered friend. I said to myself, "I'm gonna start a blog about chicken one day." That day has come.
I feel that the consumption of chicken deserves a site like this. Though I am passionate about this topic, I feel I am in a small way doing a community service by creating an online chicken consumption community.
Surely I'm not the only person who has thoughts like the following, right?
I think everybody imagines at one time or another what heaven must be like. For me, I know its a place that is still serving chicken sandwiches from Hardees the way they made them in the late 80's to early 90's in Charleston, SC — deliciously with thin skin breading seasoned just enough.
Similarly, what is the first thing you would do if you won the lottery? I would make a very chicken-specific purchase (more on this in a later post)
Perhaps the most disappointing moment of my life is a chicken-related incident (more on this in a later post)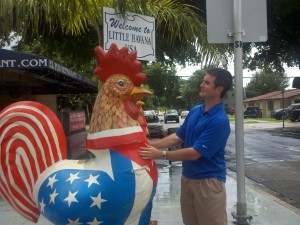 Chicken…The breast I can put my hands on in public without getting an elbow to the ribs from my wife.
The mission of A Blog About Chicken is to serve as a national resource for opinions, dreams and consumption of chicken. I am not a master chef, so I will not be sharing too many secret recipes. But I will focus on chicken-related menu items that the everyday person can buy from restaurants, fast-food chains, and grocery stores. Although there are some wonderful local places to get chicken in Greenville, SC (which I may detail in a future post) I want this site to be as inclusive as possible so I will focus on what I believe to be regional and national brands. You will see future posts such as:
Best Fried Chicken Sandwiches
Best Wings
Best Wing Sauce
Best Chicken Nuggets
Best Chicken Tenders
Best Grilled Chicken Sandwiches
Top 5 Chick-fil-A Menu Items (Yes, this place deserves its own list)
Coupons & National Promotions
In my wildest dreams, this blog would launch my career as a respected chicken critic, a beta-product taste tester, someone wooed by the big chicken chains, etc. That would be great. But that's not why I'm doing this. I'm doing it for the love of chicken. If you are looking for future opinions on topics like those listed above, coupons & discounts, or you are just crazy like me, subscribe to my feed or leave a comment. Thank you, God Bless America, and may God Bless Chicken.